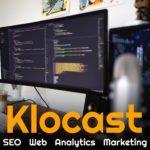 Shownotes for the first Klocast Beginner's Guide.
The Beginner's Guides are a sideline to the main Klocast podcast. If you're new to the digital world then these guides are for you. We're going to cover all of the core principles you need to know to be successful online.
This first episode is talking about how to start your online profile, the dangers to watch out for such as digital sharecropping and the first thing you should do – buy a domain name.
In this episode we talk about:
The dangers of digital sharecropping – https://klocast.com/a
The role social media should play in your business – https://klocast.com/g
The importance of buying a domain name, including tools for finding a great domain name.
Buying a domain name
The first thing is to choose a registrar. Domain registrars are the companies who register your domain name. NameCheap is one that we use quite a bit and would recommend them to anyone starting out.
Tools for finding domain names
Cloudflare deserves a special mention. This is the best DNS service provider we know of. You'll learn more about the DNS as you venture into the world of domains, websites and servers.
Hosting
Kloc Hosting – https://klocast.com/h – our very own hosting service.
If building a website scares you or you're really not technical then start with one of these builders. But make sure you use your own domain name with them!
Wix – https://klocast.com/wix
Squarespace – https://klocast.com/i
People in this episode:
Aaron Russell – https://rssl.me/-
Nate Smith – https://vcno.uk/-
Discussion
You can discuss this episode over on our community site.